Optimist Indiana South District
Conventions, Events & Links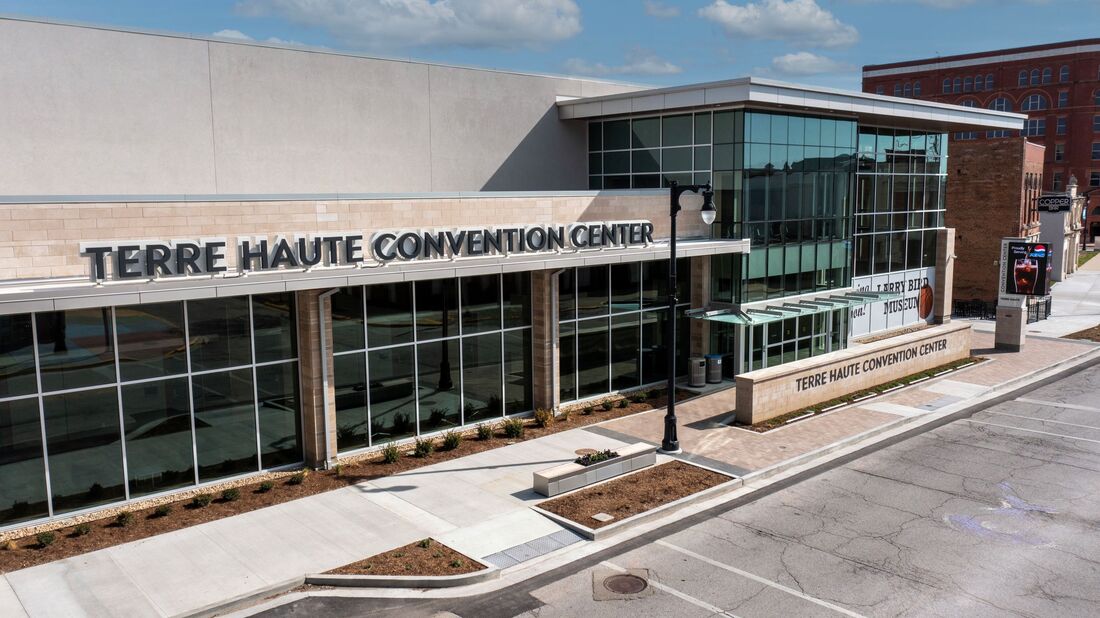 Agenda Overview
Friday, Aug. 11
Optional Tours (no charge…free will offering)
1:00 Candles Holocaust Museum https://candlesholocaustmuseum.org/
2:30 Ryves Community Center (Ryves Optimist Club focus) https://www.archindy.org/cc/ryves/
4:00 Veteran's Museum veteransmuseumofterrehaute.com
4:00 Joint Executive Committee (Reyling and Kuhn District Leadership Teams) Terre Haute Convention Center
5:30 Informal Dinner at The Terminal (820 Wabash…next door www.terminal812.com
7:30 Convention 1st General Session and District Board Meeting (for all Club Officers and members) 7:30 Hospitality Suite (Hilton Garden Inn)
Saturday, Aug. 12
7:00 Past Governors Association (PGA) meeting (for governors only)
7:30 Old/Timers/New Timers Breakfast (presentation by Julie Robison, OI VP) 9:15 General Session (OI Care Presentation and Encouragement for future)
11:00 Breakout Sessions (Club leaders training and Club Sharing for members) 12:00 Luncheon Meeting (multiple presenters on multiple topics)
1:45 Year in Review and Club displays / sharing round tables
3:30 Convention 2nd General Session and memorial service
5:00 Social Hour and Hospitality Suite (Hilton Garden Inn)
6:00 2023 Celebration Dinner (awards presentations, IS leaders installation and remarks on current and future year)
7:30 Conclusion of formal activities (continue celebration on our own or head for home…)
Optimist Indiana South District
Annual Convention
SHARING AND CELEBRATING OPTIMISM
FRIDAY & SATURDAY, AUGUST 11-12, 2023
Terre Haute Convention Center
800 Wabash Ave, Terre Haute
The Indiana South District Optimist 2023-24 Convention (4th Quarter Conference) is being held at the impressive Terre Haute Convention Center in Terre Haute, IN. The conference will be focused on the success of our CLUBS in our "Better Together" year and "Sharing and Celebrating Optimism" for the future! The convention starts with activities on Friday, but the primary activity is on Saturday (7:30 am – 5:00 pm EDT) with the 2022-23 Celebration Banquet at 6:00 PM where awards will be made and new District leadership for the 2023-24 year will be installed.
Members
Renew, Refresh and Revitalize
Begin now to Renew, Refresh and Revitalize your Club to be the best that it can be! What is the 3 "R" program and what can it do for your Club? Experience the results of this program designed especially for your Club IF you:
Renew: Embrace Teamwork by utilizing all of your resources at your disposal efficiently
Refresh: Take steps to discover improvement opportunities and find new challenges
Revitalize: Follow-up on the development of your Members – Share information
Charge Forward
The Optimist Creed
If the words above inspire you, why not make them a part of your lifestyle?
You can find the Optimist desktop images here:
From Optimist International
Make Your Own Opportunities
Optimist Club Members Receive as Much as They Give • The fellowship of proactive people with optimistic mindsets • New social and working relationships with individuals from a cross-section of our communities • The opportunity to develop and demonstrate leadership skills locally, regionally, nationally and internationally • The satisfaction of making a difference in our communities.